In Advance
Consider:
You want flooring to complement your unique style as well as the function of the room. Throwing dinner parties? Curling up with the Sunday funnies? Dog sitting for the neighbors, yet again? Keep in mind how you will use the room.
Imagine:
What personality are you trying to create? Smart and sassy? Cool and chic? Moody and mysterious? Maybe you already have some décor to work around, such as your mate's favorite plaid recliner. Now's the time to open the door to possibilities (and maybe make some décor updates).
Gather:
Torn-out magazine pages. Pinterest ideas. Paint chips. Leaves you plucked from a tree on your Bora Bora trip. These are the things dream rooms are made of. Bring your ideas to us, and we'll help make them reality.


In The Store
Request:
Use the visual aids you have gathered and ask us for similar flooring samples to see if the color and style are what you're looking for. Take your samples home. Can you live with them? Or without them?
Talk:
It really is all about you. Talk to our sales representative about your lifestyle and tastes. Find out what options work best for you, and learn the benefits of each. It has to be a good fit.
Narrow:
Now that you have all the information, really discuss with us the products you're considering. Do you prefer a rustic or sleek style? Do you like shag carpeting or dramatic patterns? Cut the contenders down, and think long-term.
Question:
We encourage you to find out the details of the sale. Our sales rep will talk with you about installation and discuss the basics of how to maintain your floor. Unclear on something? Ask us again. We like it—not only do we think you're being smart, but you'll be happy in the long run. And that's our goal.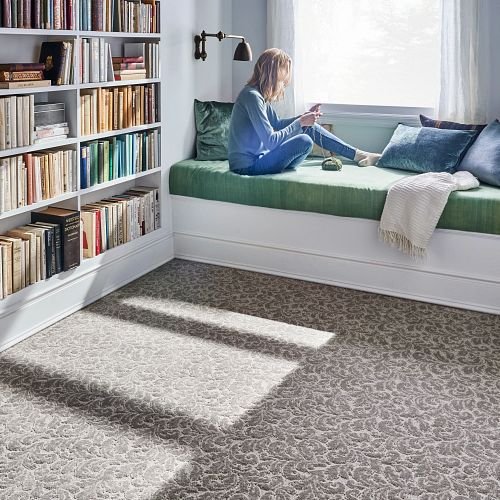 Expect to Answer Questions
When you begin your in-store shopping, your sales representative will probably ask some of the following questions to determine the ideal floor for your home and lifestyle. Even if he or she doesn't bring up all these points, if you've thought through them, you'll be ahead of the game:


Room logistics—How do you use the room? What is its size? Does it stand alone, or does it open to other rooms or to the outside?
Aesthetics—How do you want to feel when you're in the room? What's the style of the room and its furnishings?
Risk factors—Will children play in the room? Eat there? Is there an outside door? Do you have indoor pets?
Expectations for the room—Are you looking for style or practicality in your flooring purchase? What's the first thing you want to notice when you enter the room? Do you plan to sell your home soon?
The better you can answer these questions, the easier it will be to choose the right flooring for your home.